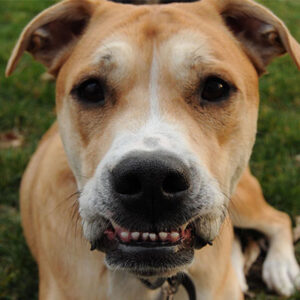 Donna Z.
adopted Sammy
What our rescue dog, Sammy, means to us…..
Millions of people adopt a rescue pet every year. There is often a common misconception is that all shelter dogs are broken, abused, or problematic. While some have been through traumatic situations or need extra medical or behavioral care, shelter dogs are too often end up in a shelter due to no fault of their own. Thanks to the wonderful caring work of Shelter to Home (STH), our Sammy (Samuel Adams) was rescued and got the needed medical attention to fix a broken leg. We followed his story on Facebook as he healed and looked forward to updates as each day passed. One cold January Saturday morning, we headed to a STH Pet Smart adoption event and got to see Sammy face to face. There is no feeling like the one you get as you lock eyes with a dog and know it's "the one," regardless of age or breed. It was love, love, love. Sammy joined our family that day and headed home with us to meet his brother and two sister dogs.
Dogs are not our whole life, but they make our lives whole.... whether it is the thousands of  kisses they give, or a partner to stroll around the yard with or just someone to cuddle with on the couch; they simply provide unconditional love. Though our home was already full with three dogs of our own, there is always room for a big hearted, fun loving dog who just wants a family of their own to love. He fills our days with joy; from his little tail always wagging, to his wanting to get his ears and belly rubbed and  to his endless games of fetch. Sammy is a big happy boy who truly loves his family; but we love him even more!
The day you bring home a new dog is one of the most memorable days ever. Thanks to Shelter to Home for giving our Sammy a chance to have a happy healthy life. We simply love our boy to pieces.
on