Shelter to Home started as an informal grassroots effort back in 2006. Our founders were taking a walk around the track at a local school in the middle of winter and came across a mother cat with small kittens under the bleachers. They were animal lovers but didn't know anything about rescuing animals. Nevertheless, they couldn't imagine how the mom cat was caring for her babies and surviving in the cold. So they gathered supplies and came back to get the mom and babies.
They ended up paying for the care and spay/neuter costs out of their own pockets. But in looking for help and talking with local animal rescuers, they quickly discovered that the shelter system was very broken. Animals were being killed, not sheltered.
Fueled by sadness and anger at what they found, they partnered with a few other animal advocates and formed Shelter to Home in 2007. The mission was simple: save animals from being killed at local shelters.
Since then, Shelter to Home has rescued over 5,000 animals from local shelters. We provide the care they need and give them the second chance they almost didn't have.
Milestones & Lessons Learned
O'Henry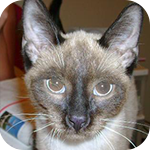 New to fostering, we quickly learned about feline upper respiratory infections. O'Henry had such a severe URI that he licked part of his nose pad off.
First Heartworm Dog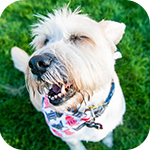 Griffin tested positive for heartworm. With very little funds in our account, we pushed ourselves to go for it. We trusted that we could raise the funds for his care and we learned about the prevention and treatment of heartworm in the process.
First Long-Timer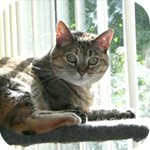 We took a chance on this shy, pregnant mom. As we quickly adopted out her kittens, Willow taught us patience and to have faith that the right adopter is out there for every animal.
Petunia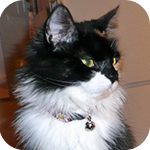 Petunia went 13 days without eating. She taught us how to force feed.
Alex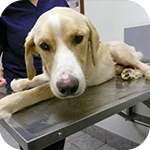 Alex sat in the shelter for 6 days with a shattered leg and a severe infection. His story ignited our internal fire for helping animals suffering in shelters. He was also our first experience working with an orthopedic specialist and rehab therapy.
Fudgie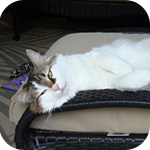 Our rescue efforts had been so focused on kittens and young adults because there were so many, and we have to admit that we believed the stereotype that it was hard to find homes for "older" cats. At the time, it seemed like we were taking a chance on 6-year old Fudgie. She showed us how ridiculous that stereotype really is – and that 6 is young! Years later, we've found homes for many senior pets. We don't even hesitate to rescue 18-year olds!
Parvo Dogs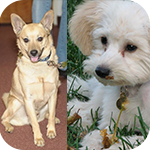 When this highly contagious viral illness spread in a local shelter, Harvey and Tyson were among the dogs slated to be killed to stop the spread. They were the first animals we rescued knowing they would need 24-hour vet care to have the chance to cheat death twice.
Ernestine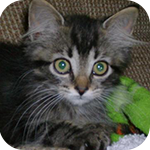 Ernestine taught us that despite our best efforts, sometimes we have to let go. With situations like failure to thrive in kittens, euthanasia in the true sense of the word can be the kindest thing to do.
Crystal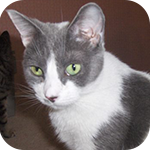 Letting an animal go for something like the feline herpes virus, which can cause chronic illness, is not kind euthanasia. Crystal taught us to dig deeper to find solutions for a good quality of life.
Champ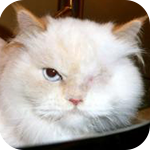 Champ was a victim of a neglectful hoarding situation. Often inbreeding will lead to physical issues. She was our first eye removal. We have unfortunately had several more over the years.
Blind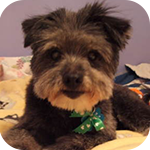 Cooper is remembered as one of our first 'let's go for it!" moments when we learned an old blind dog had been dumped at the shelter.
Calder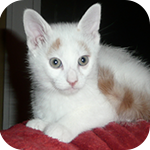 We learned how to tube feed itty bitty kittens to help them survive. We have used what we learned many times since then when dealing with struggling kittens.
Puppy Strangles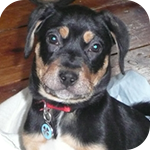 Rocky suffered from 'puppy strangles,' a severe immune dysfunction. We learned that early and aggressive therapy is needed to treat it. It look him 6 months to get through it.
Senior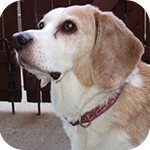 Kippie was sitting in a local shelter because nobody wanted a dog covered with lumps and bumps. Our beagle-loving foster home gladly took her in. We also discovered that Kippie was suffering from Kidney disease. Even with these problems, a local family who loves to adopt seniors adopted her and gave her the best life possible for the time she had left. Kippie reminded us that there is a home for everyone.
Bonnie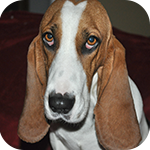 One of the most gruesome injuries on a dog, she required 18 inches of stitches to sew up her wound.
Ringworm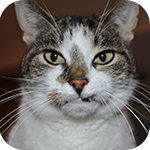 Ringworm is not deadly but can be a nightmare for a foster home. We learned the ins and outs of treatment.
Feisty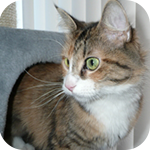 So many cats are killed at shelters because they appear aggressive. It's simply not fair to judge a cat in that type of environment. Heidi taught us to allow a cat to decompress from a stressful place, and they will learn to love their human.
Ruby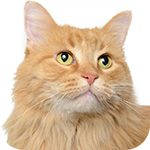 Ruby taught us to be patient and accepting of shy cats.
Black Cats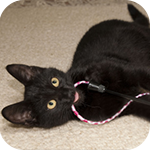 Black cats rule! We save them. We advocate for them. Kazi is one of many.
A Vision Was Born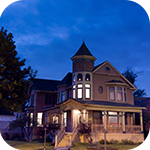 In 2011 we fulfilled one of our many dreams. We leased the building for our Pet Adoption Center in Wyandotte, Michigan. An old Victorian home built in 1874, the center now serves as our headquarters and a place to conduct business. It gives us greater visibility within the local community, and most importantly, it gives us the home setting we wanted to showcase our rescued animals.
Hope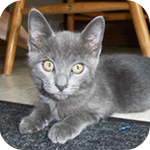 Having an injury that caused her to lose a limb, Hope showed us that cats can live full lives with 3 legs.
Pip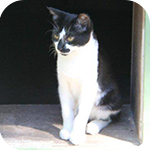 Our first kitten diagnosed with Feline Leukemia, Pip went to a sanctuary to be loved to the end.
Smooshie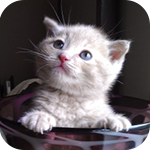 Smooshie took us on the roller coaster that kittens often do, until we learned he had a condition treatable with medicine.
First Feeding Tube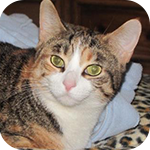 We had lost a cat to lipidosis before when she stopped eating. Not letting history repeat itself, when Trixie stopped eating we knew she needed a feeding tube to save her. Since then, we've had this procedure done many times to save a cat's life.
First Diabetic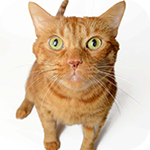 Max was our first diabetic animal. Insulin, needles, and twice-daily shots were what he needed. We learned to help an animal with diabetes and we have helped others since then.
The Cookie Bunch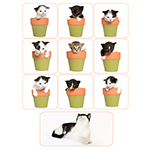 Oh my… she did have 9 kittens! We learned how to assist mom with raising her little ones and helping them to grow to be social and lively. We have had several large litters, but have yet to surpass this bunch!
Herbie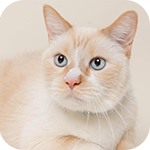 Teaching us to always find a solution, Herbie now lives at a sanctuary for cats who refuse to use the litterbox.
Lil Mac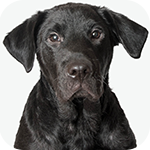 Our first severe mange dog, Mac the puppy was missing most of his fur. We learned that love, medication, and time is all that is needed to heal mange.
Fifth Time's a Charm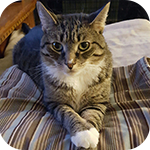 Beau found himself adopted and returned four times. He would develop a sensitive stomach when trying to settle into a new home. Once again proving there is a place for every pet, his fifth one stuck!
FIV is Not a Death Sentence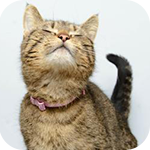 She's a cat living with Feline AIDS… like so many are. Minnie showed us that our role is to educate, counter misconceptions, and stop the discrimination – and in some cases, the needless killing – of cats with FIV.
Loomis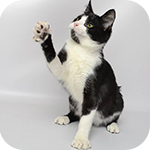 He had Cerebellar Hypoplasia, wobbly kitten syndrome. Would anyone adopt such a kitten? Loomis proved to us that the answer is definitely yes. He stole many hearts, and found a family to love him.
First Pregnant Dog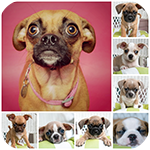 A summer surprise to find out your foster dog is having puppies… a lot of them! What a ride to not only save one dog from the shelter, but to learn you just saved seven more!
Survived a Fire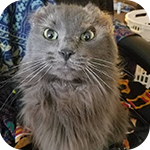 Isabella survived being burned in a house fire. She taught us to fight right along with her. Her scars are of survival. Beautiful scars.
Steve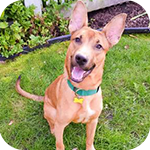 Severe emaciation in any animal is so hard to see. we all know the feeling of hunger, and also the love of food. Steve was obviously not being taken care of by his human. It was a chance for us to right a wrong and nurse him back to health. 
Emergency Care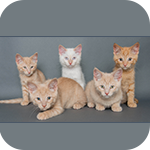 Sometimes we learn that we must do whatever we can to save the lives of our rescues. Not an easy thing going into kitten season, knowing that we will be faced with financial strain, but we have proven to ourselves that we will recover. And they are worth every penny.
Getting the Word Out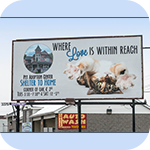 Getting creative with telling the world what we are about is one of our favorite things. In 2016 our billboard proudly sat at the corner of Ford and 6th Streets in Wyandotte. 
Allie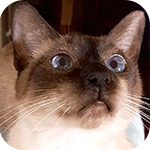 Allie underwent radioiodine treatment for hyperthyroidism in cats. It's an expensive treatment, but a chance to allow an animal to live without lifelong health issues and daily medications.
A Dream is Realized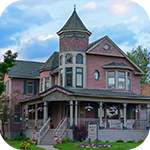 After several years of renting, we realized another dream in April 2017 when we purchased the Pet Adoption Center. The cats are now our landlords, and they like to remind us of that every day.
Two Years in a Shelter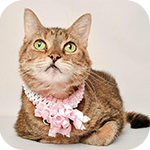 An animal sitting in a shelter for 2 years puts fire in our bellies. It's not uncommon for us to ask a shelter manager, 'who has been here the longest?' and challenge ourselves to be the ones to take a chance on them.
She Deserved a Chance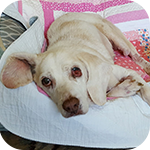 Her rescue story is a simple one. No one wants to see a neglected animal waste away at a shelter. Hattie taught us when we still have life we can enjoy the little things. Sometimes we just need some help from our friends.
10 Minutes to Decide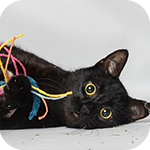 We had 10 minutes to decide if Joe lived. It's not a lot of time, but enough to say don't euthanize him because of his injuries… we would like to give him a chance. And that we did. After 6 months of constant and dedicated care, Joe healed and was adopted. 10 minutes was long enough for us to believe.
Patience & Healing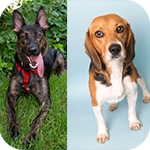 Two separate rescues both taught us patience. It is not easy to take an animal who has been badly injured and keep them resting. Our foster parents showed true love and perseverance. Benson the shepherd kept his leg. Beagle Betsy's broken pelvis eventually healed. Both were adopted into loving homes.
Wesker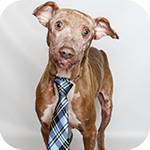 We didn't know much about his back story, but what we did know is that Wesker had suffered far too much in his young life. Wes was extremely underweight, and was suffering from severe skin issues and a debilitating foot injury. The generous gifts of donations from our supporters allowed us to give him the care he needed. His foster family eventually adopted him.
Victor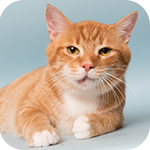 Victor came to us in horrible shape and things were looking grim based on the amount of damage to his jaw, palate, and leg. When the doctors advised that it might be best to end his suffering, we gently pushed back and said no. He deserved a fighting chance. Victor epitomizes the work STH does. What an incredible lesson, and a special cat.
That's How We Roll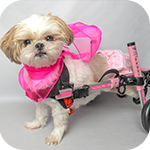 Sometimes you do what's called 'going for it'… and it can be scary. Since STH has had a lot of 'go for it' moments in our history, it becomes a little less scary and more of a determination to do it, to figure it out, and to learn. The lesson for all from Pebbles is that life does not end with paralysis.
The Golden Girls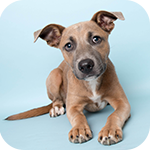 Dorothy was from a litter of three who came to us dying from parvo. We had just come off saving two others from this horrible disease, and so it was deemed the summer of parvo. Sadly, her sisters, Blanche and Rose, lost their battle, but Dorothy made it through. Her adoption made it all worth it.
Dapper in a Onesie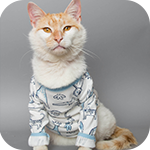 This boy comes to us having suffered an attack from another creature. Jeffrey's shoulder was badly abscessed. We knew we could help him. What we didn't know is that we could dress him up to allow him to heal… who knew most adult cats wear a newborn size 0-3 months?
Bronte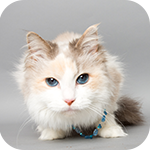 Brontë was suffering from a sliding hiatal hernia. This was a serious issue that needed be addressed. She had been at the shelter three months like this.
It was her time… she's waited long enough. We helped her get the much-needed and costly surgery. 
So much more to come...
We're just getting started!