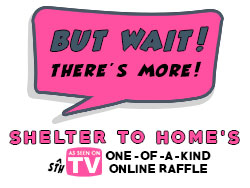 Summer 2020, eh? World got ya down? Heat got ya heated? Shutdown got ya shutting down?
BOY, DO WE HAVE THE SOLUTION FOR YOU!
Here at Shelter to Home, we're bringing you the FUN, the FUNNY, the RELAXATION, the GAMES, and the GOOD TIMES to shoo your Summer '20 blues!
"But, how?" you ask? Well, we'll tell ya! You're going to watch great videos! See funny people! Learn about awesome jigs and gadgets and whatchamawhosits, and you're going to WIN!!!* 
*WINNING CANNOT BE GUARANTEED. See how winners will be chosen HERE.
BUT WAIT! THERE'S MORE! All of this is going to happen for you, while you are helping to save lives, rescue stinkers, and help pets find their FURever homes!
We don't mean to brag, but our 2020 "summer blues raffle" just may be our best FUNdraiser yet!
Items cannot be shipped.
Hurry! We'll be drawing winners starting at 2pm on Sunday, August 9th. Winners will be notified that evening.
Let's get to the prizes!
BUT WAIT, there's still more!
For every $50 you spend in the raffle, you will receive one free entry to win a $250 Amazon gift card!
Oh! The Places They Will Go!
Six foot cat tree! Collapsible tunnel! Faux fur cat bed and kitty hut! Your cat's gonna have a WHALE of a time with this prize package!
Take Mr. Puppy on an afternoon adventure, from swim time in the pool to fetching at dusk with a "Chuck It!" Ball and Thrower! But wait! A pile of treats, bones, and biscuits to refuel Fido in between! As if that's not enough, this raffle item comes with TWO TWENTY-FIVE DOLLAR gift certificates to Feed Rite Pet Supply! Take Puppy with you to spend in this posh car seat, included! That's one pampered pooch! 
Custom Shelter to Home umbrella!
But Wait
! It's full of cash to make it rain! (a cool $100 on a hot July day)
🎵
Money money money money
🎶
How can your summer nights be more fun? Fire! Get your new fire pit, mini logs, fire starters, and bonus log holder. But Wait! If that's not enough, s'mores for days!
Not one! Not two! Not Three! You're getting SIX puzzles for everyone's taste and skill level! But Wait! Buy a ticket now, and you could win this package plus a bonus puzzle mat, to roll it up and keep Kitty McFeetsies out of your game!
Fill 'er Up – Who wants a dozen gas cards?! Who doesn't?! You can win them! But Wait! Act now and get one more, for the road! 13 $10 gas cards, a baker's dozen!
Too sweet to mention! Hershey's to Godiva, coming your way! But Wait! Get some magical, delicious, fresh fudge when you act now!
Get your pool time fun started with a cheeseburger floaty, two luxurious beach towels, and a bonus critter ladder lifesaver! But Wait! You're also going to get TWO deluxe insulated bottle holders with lids and straps!
DUET™ Combo pressure cooker/air fryer! BUT WAIT! We're including THREE cookbooks and bonus pair of Bowl Buddies!
All the movie snacks you could ever want, plus buttery popcorn! But wait! Not one, not two, but THREE $25 Netflix prepaid cards, to get you MONTHS of all the movies, tv shows, and clips you could ever need! *ADORABLE CUDDLE BUDDY NOT INCLUDED
Taco Tuesday? Now it's Taco Today! Now you won't believe this bundle! You're getting a custom kitchen organizing bucket, taco shells, seasoning and spices, plus the $30 you need for fillings for the whole family! But Wait! We've got bonus taco holders, a filling scoop, two mouth watering recipe-filled cookbooks, AND a six pack of Modelo for toasting to Taco Tuesday!
STH tumbler, custom pottery mug, multiple flavored coffees, plus arabica, dark roast, and more – eight bags!
You're going to want to enter this raffle! Eight quart Instant Pot, with a scrumptious recipe filled Instant Pot cookbook! But Wait! There's More! FIVE meal prep storage containers, tea towels, and a bonus spaghetti maker!
Loads of fun for your squeak-lovin' pup! Enough to give your chewin' compadre a new comrade a week, well into the new year!
From Black Star Farms to Chateau Le Coin, you've got over a bottle a week to finish out your 2020! Made of red, white, and rose! But Wait! There's a tumbler for casual lounging and a foolproof perfect pour, with our wine-bottle-sized glass! *MUST BE 21 OR OVER. PLEASE DRINK RESPONSIBLY.
Fifi's dream come true! Winding up, and winding down, with baskets (literally) overflowing with catnip everything! The stuffed toys, bell toys, crinkle toys, and more, all nipped up, with cans of catnip, catnip spray, catnip treats, and edible catnip balls! But Wait! Bonus basket full of items because we just couldn't contain the catnip with one!
Too many people in your space? Can't air it out in the heat? Get the fresh air you're looking for with these luxurious scents! You're going to get Febreze Air Hawaiian, Scentsy Boho Chic Warmer, Scentsy Pink Cotton Hand Soap, Scentsy Lemon Counter Clean, couple of Car Trees, Bath & Body Works Body Creams in Be Enchanted and One in a Million, Scentsy Washer Whiffs, warmer & scents, room sprays in pumpkin and berry, and Yankee Candles in 12 oz. jars! But Wait! There's More! Bonus Best Buds shampoo and conditioner for your four-legged stinkers!
Deluxe wooden regulation sized corn hole set, custom decorated for the Tigers fan in your family! But Wait! Corn hole bags and convenient carrying case included!
SIX fresh paperbacks to relax your summer afternoons away! But Wait! You'll get two bonus Amazon cards to buy more paperbacks, or load up with digital — worth $70 total!
Thirsty?! From Short's to Bell's, you're covered this summer, and a pair of custom paw glasses, plus a bonus sampler pack of Brew Dog! *MUST BE 21 OR OVER. PLEASE DRINK RESPONSIBLY.
I've Got Spirits, Yes I Do!
Round out the bar of your dreams with Monte Alban tequila silver, Tito's vodka, Fireball cinnamon whiskey, Jose Cuervo tequila gold, Tanqueray gin, Crown Apple whiskey, and Jim Beam bourbon! But Wait! This bundle comes with custom paw glasses to liven up your creative cocktails! Bonus White Claw pack! *MUST BE 21 OR OVER. PLEASE DRINK RESPONSIBLY.
There's a planting jackpot for you! Large cart, kit with gloves, mat and tools, wooden garden art and decorative rock, along with everything you need including soil, a starter pot, and a bonus start-you-off petunia! Plus a beautiful wind chime!
Birds, Butterflies, & Ladybugs!
Butterfly net, butterfly book, branch/cocoon sleeve, and bonus birdhouse and ladybug house! 
Two-person tent, flashlight, and tent lights! But Wait! Enter the raffle now and get a bonus, travel-friendly, pop-up cornhole set!
Over $100 in local restaurant gift cards for a night away from the stove! But Wait! You'll get discount cards for downriver restaurants to save even more!
Stir crazy from cabin fever? Get outside with bubbles and fun! More sidewalk chalk than you can shake a stick at! A boatload of bubbles, too! But Wait! There's More! A Tin Can game, catch game, water guns, bubble blower, and bubble toys!
How Winners Will Be Chosen:
Each purchased ticket will be assigned a number based on the order of purchase. For example, if Jane is the first to purchase 5 tickets for this prize, her entries will be numbered 1-5. If Paul buys the next 10 tickets, his will be numbered 6-15.
When it's time to draw the winners (starting at 2pm on Sunday, August 9th), we will use Google's random number generator to choose the winner.
We will take screenshots of the winner selection process.
Thank you to our sponsor and STH alumni, Francine!